The Media Suite brings streaming, recording, and editing services to everyone in the FSU community.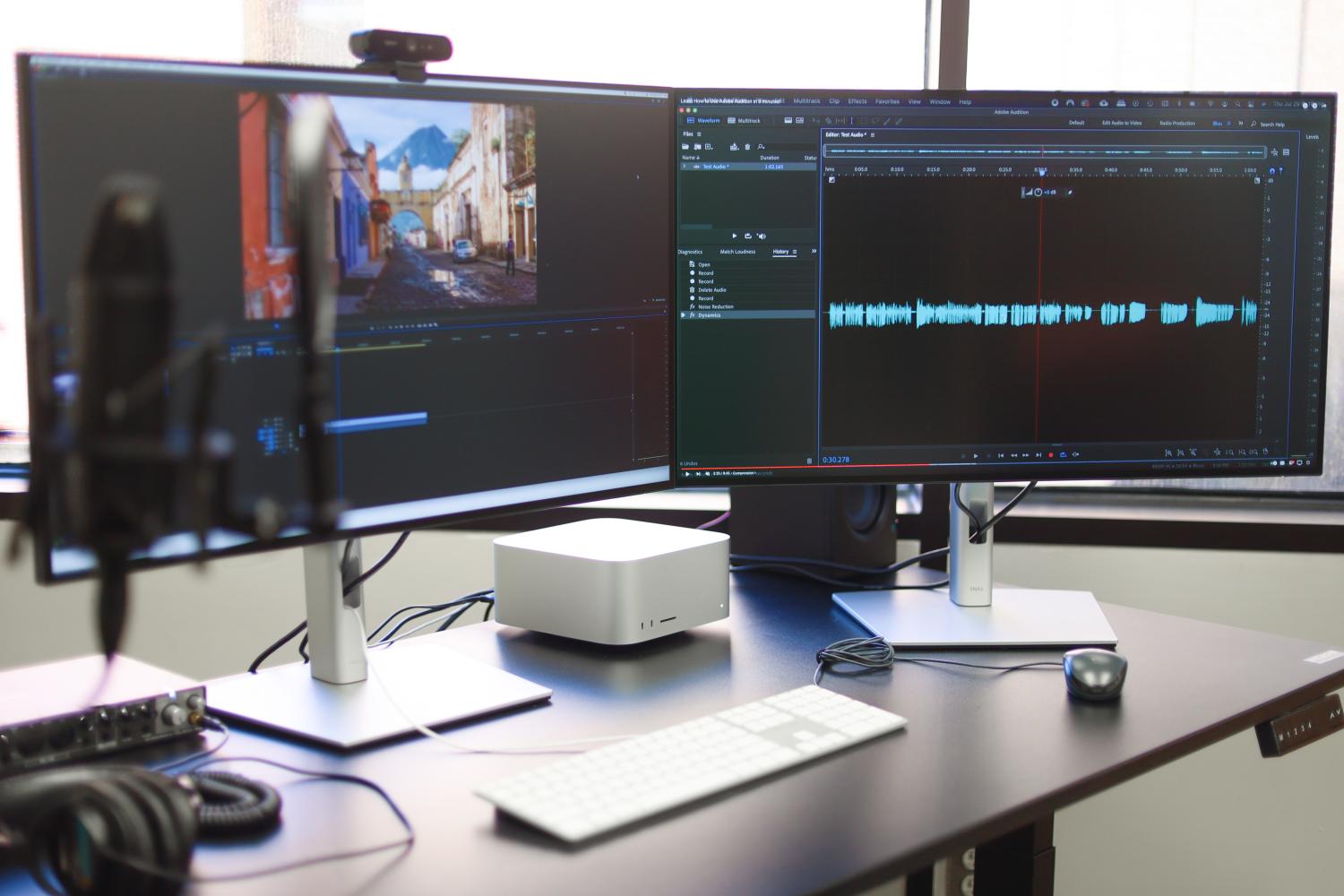 About the Studio
In addition to its main floor studio, GEOSET also offers a personal recording and editing studio in Dirac 305 (up one flight of stairs from the main lobby). The newly renovated space is equipped with industry-standard technology and equipment for you to use in your personal projects or classwork. You will also find introductory guides to the software included in the space, as well as links to advanced guides on media creation.
Using the Studio
Get the Room
Before you visit, book the room through the Library Room Reservation System. When you visit, stop by the front desk and pick up the key from a staff member.
When you are finished, leave the room as you found it. Make sure the door locks on your way out, or you could be held responsible for damages and/or theft that occur after you've left. If you accidentally lock the key inside the room, please notify a staff member at the front desk.
User Guide
To help you use the Recording Studio, GEOSET has created a digital media user guide. This guide is also available in paper form inside the studio.
Sample uses for the studio:
Attending professional job or internship interviews
Recording a presentation for your class
Filming yourself in front of the green screen
Recording audio for a podcast or web series
Get Help
If you encounter problems while using the studio space, we are here to help. Please talk to a member of the Circulation staff on the main floor of Dirac. They can provide troubleshooting support or submit a ticket.
Can't figure out where to start your media project? Looking for resources to learn about Photoshop, Premiere, Illustrator, etc.? Submit a consultation request—we can work together to develop a plan of action and steer you in the right direction
Equipment List
The Media Suite has state of the art equipment for your use. Use this list to plan your visit and confirm the equipment is present and in working condition when you arrive.
Mac Studio
4k Dell Monitors (Two)
Webcam
Microphone (Two)
Speakers
Headphones
Audio Board
Green Screen
Sound proofing