Bill Nye Officially Opens GEOSET Studios
---
Bill Nye Officially Opens GEOSET Studios
Tallahassee, FL. — September 16, 2014 — Today, Bill Nye "the Science Guy" officially opened GEOSET Studios, a facility designed to record educational and promotional material for students and faculty. The videos can be produced in a variety of formats including Mediasite by Sonic Foundry.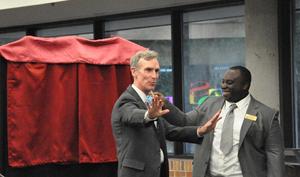 GEOSET Studios is the latest addition to the Global Educational Outreach for Science Engineering and Technology initiative. This is an academic service provided free of charge for the entire university community. Our recording studio primarily targets outstanding educators and gives them a chance to showcase their work. The Studio in Dirac Library is primarily student-run, connected to the main GEOSET initiative with around 50 participating institutions. The Studio is free of charge for anyone to use to quickly produce and upload videos, with a mobile division that can record presentations anywhere on campus.
Our main objective is to expand on our cache of focused educational concepts created by our global community of teachers, researchers, undergraduate and post-graduate students, high school students, as well as K-12 / primary school children.
Bill Nye will officially opened GEOSET Studios during a reception which started at  5 pm in Dirac Library. Following "An Evening with Bill Nye" at the Ruby Diamond Concert Hall) GEOSET hosted a question and answer session with Sir Harold Kroto and Bill Nye.
View the FSU GEOSET site at: www.geoset.fsu.edu  and the database site at www.geoset.info
Press Contact:
Steve Acquah
sacquah@chem.fsu.edu